Vsett 8 Lite (NEW 2023)
Pickup currently unavailable
A new generation of electric scooters
A new generation of electric scooters is here and is called VSETT! The VSETT 8 2023 is the smallest model of the electric scooter series made by this brand. It is an excellent, new generation single-motor electric city scooter developed by the team that has previously introduced the successful Zero scooters. This electric scooter series is characterised by quality, stability and safety. The VSETT 8 2023 boasts several innovations that take the development of electric scooters to a higher level. The whole structure is carefully balanced to maintain stability even at maximum speeds that may reach up to 42 km/h. As a standard, the scooter's equipment includes LED lights integrated into the deck and the steering rod.
Safety and ride quality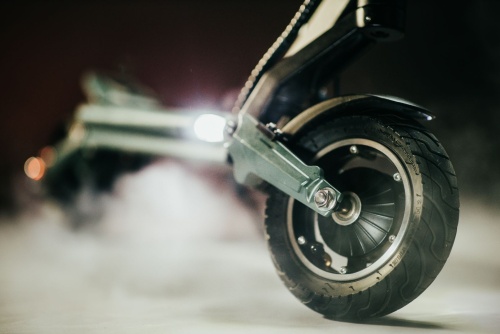 Safety always comes first. The scooter's components are installed in a new frame, which was designed for maximum riding stability. The comfortable folding mechanism is fast and, most importantly, safe thanks to its safety latch. The frame is made of a strong aluminum alloy used in the aerospace industry. The whole structure has been precisely balanced to maintain stability even at maximum speeds that may reach up to 42 km/h (depending on the battery size, rider's weight, outside temperature and terrain). A proper scooter requires a quality braking system, which has been indeed given to this scooter. The proven front and rear drum brake can brake effectively even at the scooter's top speed. Combined with the electric ABS in the rear wheel supplemented with the automatic deactivation system, braking will be a piece of cake. The quality and rigid structure of the entire scooter allows total load capacity of up to 120 kg. The scooter offers the option to activate the so-called "Kick-start" feature preventing any unwanted start up. The functional fenders and IP44 certification are a matter of fact. This means that you do not have to worry about bad weather or your clothes getting dirty. The easy-to-maintain step-on anti-skid surface preventing the rider from slipping in bad weather or extreme situation comes as a bonus. As a standard, the scooter's equipment includes LED lights integrated into the deck and the steering rod which, combined with front and rear turn signals and mechanical horn, allow the rider to ride safely both during day hours and in poor visibility.
Power and range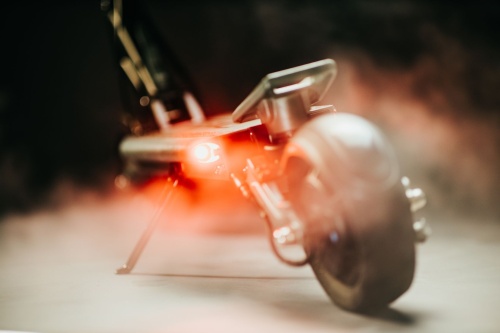 The VSETT 8 electric scooter has a single powerful carbonless electric motor providing 600 W nominal power and producing a total peak output of up to 850 W. Combined with a 23A control unit and new thermal protection circuits, the scooter likewise allows the rider to ride up the hill. The scooter's power is controlled by a popular finger lever. LG's intelligent 48V lithium-ion battery supports fast charging and promises a long range (depending on the selected battery capacity: 15.6 Ah, 19.2 Ah or 21 Ah, rider's weight, weather conditions, terrain and riding style) between 55 and 85 km (in ECO mode). Located at the top of the deck, the two charging ports are accessible from both sides. Meaning, it does not matter whether you park your scooter with the right or left side facing the wall. Naturally, these charging ports are equipped with a protective cap. The battery does not suffer from any undesirable memory effect, which is why it will last many years, subject to proper charging and maintenance!
Use and practicality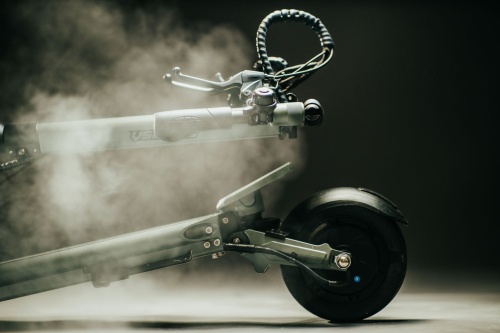 Its rigid structure and sufficient power predestine this scooter to living an urban life. Thanks to the powerful electric motor, the VSETT 8 2023 can even handle a small incline. When riding in a city, you will appreciate smooth power delivery and agility of the scooter. You do not have to worry about your scooter giving up on you on a longer trip. You will love the comfortable chassis, which you will appreciate on cobblestones, for instance. The scooter's weight varies between 20 and 23 kg depending on the battery size. However, despite robust design, the scooter is compact, so you can take it without problems inside a restaurant, for example. Carrying the scooter over a short distance does not require too much effort, however you will sweat a little if you need to carry it to a higher floor of an apartment building without elevator. By its size, the scooter fits inside the trunk of a normal car without problems, but do expect it to take up some space. This said, it remains an excellent city scooter.
Body, design and equipment

The scooter has a nice design that combined with black & gray-green color scheme looks truly great. The frame and folding handlebars are made of wrought aerospace aluminum alloy. This combination gives the scooter the rigidity it needs to ensure rider's safety. Taking care of your comfort are the front and rear spring shock absorbers, the 8.5-inch front inflatable tire, the 8-inch rear solid tire and comfortable ergonomic grips on the handlebars. The scooter's folding mechanism was designed to use a lever mechanism, which can be also used to fix the steering rod in a folded position. This gives you the certainty that you can fold the scooter at any time whenever you have to carry it somewhere or load it into a car. Located at the rear of the machine, the integrated handle makes it easier to carry and load the scooter and allows better lifting of the scooter. The VSETT 8 scooter is equipped with a large and easy-to-read display with NFC lock, activated by a chip in the form of a dongle, NFC-compatible smartphone or smartwatch. The display shows all important data, such as speed, current gear, daily kilometers travelled (TRIP), total kilometers travelled (ODO) and the current battery level. Thanks to its high brightness level, the display stays legible even in adverse weather conditions.
Our rating
An ideal city scooter! The VSETT 8 2023 is a solid city scooter and we are glad that we are among those who are able to offer this excellent machine to the customers. It is clear that this scooter meets the declared paper specs. It has a solid construction and beautiful design, offering high levels of safety and reliability. As you travel down the city streets, notice how many people turn their heads to look at you. It will definitely put a smile on your face and you will feel like a "king". You can park the scooter inside a café or in the office without worries and you will never get tired of looking at it. However, if you have unlimited budget and wish a longer range or a higher speed, then also have a look at the VSETT 10+ model.
Warranty
Warranty 2 years ( 1 year battery )
Returns
How Do I Return my Order or Get a Refund
If you are not happy with your item for any reason just contact us and we´ll provide a solution. Customer satisfaction is our number one priority so you may receive a full refund.
If you are unhappy with your order, we encourage you to contact us directly so that we may resolve your issue.
However, we will not be able to refunds any payment after 14 days after ordered.
Refunds Policy
To obtain a full refund, within 14 days of receiving the item you must inform us that you will return the goods in an "as new" condition. 
How to do this is detailed below.  
Lifty Electric Vehicles defines "as new" condition as unridden, with all parts, manuals, and accessories included in the original box and packaging. 
Returned items will be checked by one of our specialists to ensure they meet the criteria set out in this returns policy. 
Refunds will be processed within 14 days of us receiving the returned item, using the same method of payment used for the original purchase.
We may refuse a refund should your product be returned not in an "as new" condition. Credit & debit card refunds must be made to the card used for the original purchase. 
Please be aware that direct refunds can take up to five business days to appear in your bank account depending on whom you bank with.
We are unable to offer any refund without a valid receipt. 
Contact email: 
​
Shipping
Shipping Policy Disclaimer
On acceptance of orders, Lifty Electrics will make every effort to process within the stated time frame. Unfortunately, sometimes unforeseeable events such as severe weather, crisis, and many others may affect this.
We aim to dispatch the majority of orders the same day, our dispatch & delivery timescales are detailed on specific product pages. Please note that couriers can experience delays or backlogs, Lifty Electrics cannot be held liable for such shipping delays.
To ensure the security of purchases, Lifty Electrics may need to contact customers to validate orders, which may cause delays. 
Countries That We Ship To
We ship within the Ireland and all countries in the EU. Please note that due to Brexit, Orders being shipped to the Uk may be subject to customs duties.
Europe
Here is a reference from the European Union website: https://ec.europa.eu/taxation_customs/individuals/buying-goods-services-online-personal-use/buying-goods/buying-goods-online-coming-from-a-noneu-union-country_en
Unfortunately, as a small business, this is collected by your local government body and is out of our control. We are in this together and want to communicate this to you clearly before your order leaves our facility. 
Lifty Electrics is not liable for any tax applicable on the items ordered by our customers through lifty.co

Kindly note that the exact valuation of the taxes incumbent upon the customers relies on the local taxes policy. For more information, please contact and consult with your local customs authority.

In case of any special requests pertaining to the mode of shipping, please contact us after placing your order and one of our representatives will assist you.

Please note that if the order being delivered is not accepted for any reason or the customer refuses to clear the custom fees before receiving the order, the customs officer may destroy the item or would need to ship it back to us, in this case, all the expenses that would occur including shipping & taxes, the customer is solely responsible for handling all the fees that will incur.

We try to process all orders placed on our website within 1 to 2 business days. Orders placed within Monday - Friday (9 am - 1 pm) will start processing on the same day. Orders made after this cut-off time will start processing the next business day. There are no orders being processed or shipped during weekends.
Pre-Orders
Pre-orders are advance purchases made on products that are scheduled to be shipped at a future date. They are a great way to guarantee that an item will not be sold out upon arrival at our warehouse. Each item available for pre-order will have its own estimated shipping date (usually detailed on the product page).
The advantage of pre-ordering is that you can guarantee the item you want without risking that it runs out as soon as it is available in our warehouse. Requests for certain products can be multiple. For this reason, availability can run out even before the item is physically in stock.
How long will it take to ship out my pre-order?
Waiting times vary from article to article. Once that the item is available in our warehouse, your order will be dispatched within two working days.
Please keep in mind that if you placed an order containing a pre-order item, the entire order will be on hold and dispatched at once.
When does a delay occur and why?
In some rare cases, there may be delays caused by events outside of our control. In the unlikely event of a delay, our Customer Support Team will get in contact with you as soon as possible.
Can I cancel a pre-order item?
No, it is unfortunately not possible to cancel your pre-order under regular circumstances.

This is because upon pre-ordering, we create a special reservation for you with one of our suppliers or manufacturing partners. Once the reservation has been made, it can generally not be cancelled by us.
Please contact our support team at hello@lifty.co for more details.