Xiaomi Electric Scooter Essentials
Pickup currently unavailable
ALL IMPORTANT
Product Information
Intuitive, easy to use, portable, and compact. Those are the general properties of the popular Xiaomi scooters. The compact dimensions and a fast-folding mechanism allow the Xiaomi Essential scooter to endure daily combined commuting, always taking you safely to your destination. Its weight of 12 kg makes it ideal for frequent carrying, as you will have no problem taking it with you, for instance, to public transport or carry it to your office. With its speed of 20 km/h and a range of up to 20 km, this scooter has been designed for every electromobility enthusiast who has just started to use this form of transport. This scooter benefits from proven design used in the previous Xiaomi scooters while adding various enhancements to make your experience even better. It visually differs from its predecessor – the M365 Pro model – only by its yellow reflectors. If we were to compare it to the 1S model, the main and only difference is the smaller-capacity battery, which gives it a lower speed and a shorter range.
Body, design and equipment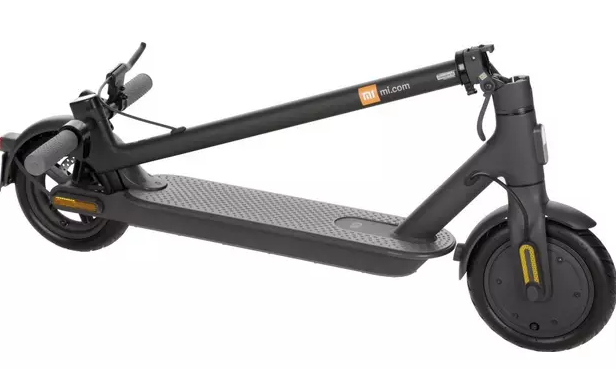 The minimalist design and a unified geometric look of the scooter will captivate you at the very first sight. The scooter functions as easily as it looks. The rigid scooter frame is made of aerospace aluminum characterized by low density and high structural strength, being able to carry riders weighing up to 100 kg, which is a respectable load capacity considering its low weight. The frame also comes with excellent thermal conductivity and is highly corrosion-resistant, thanks to which it will last longer. With its weight of only 12 kg, the Xiaomi Essential electric scooter is perfectly adapted to be carried and maneuvered on stairs or sidewalks. Folding it requires three simple steps. Hold the lever, fold the scooter, snap the scooter's bell into the latch on the rear wheel and you're done. The result is a compact and safe shape that is great for storage at home, in the office or in a car. All riding statistics are at your fingertips in your smartphone. Clip it to the holder on the handlebars, connect it via Bluetooth and use the app to monitor your current speed, remaining battery life and other real-time riding statistics. The regular updating of the operating system will bring you the best possible riding experience.
Safety and ride quality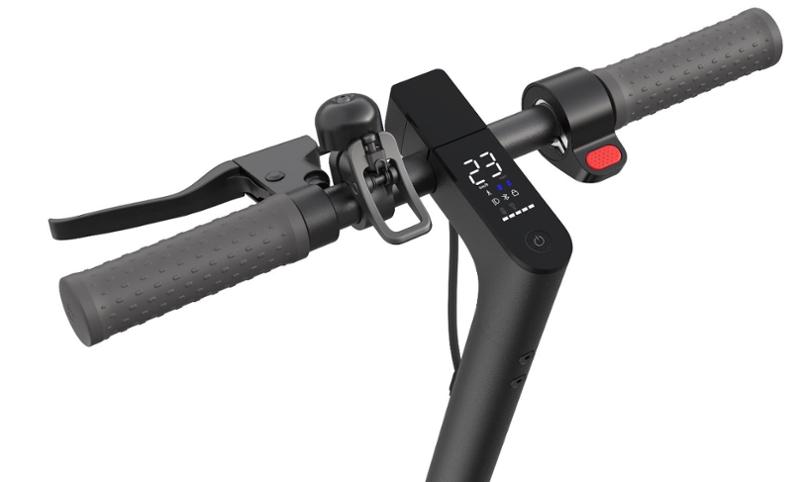 The Xiaomi brand does care about safety of its customers, which is the reason for equipping the scooter with anti-slip handles. These handles provide a comfortable grip and excellent control over the scooter, even during longer trips. You have your speed under absolute control, as well. Gently push the thumb lever down and keep accelerating until you reach the desired speed. The powerful headlights for riding at night are absolutely essential. Despite this fact, many scooters are not equipped with them. For safety reasons, the Xiaomi electric scooters are fitted with very powerful 1.1 W LED lights providing a range of up to 6 meters. You also have at your disposal a braking red tail light. When you press the brake lever, the bright tail light lights up red to warn other pedestrians and vehicles on the road. The scooter is equipped with a rear mechanical disc brake and also with E-ABS – a regenerative anti-lock braking system for efficient and sensitive braking with a braking distance of only 4 meters. The air-filled tires further contribute to smooth riding. Both 8.5-inch wheels absorb shocks and feature an anti-slip pattern.
Power and range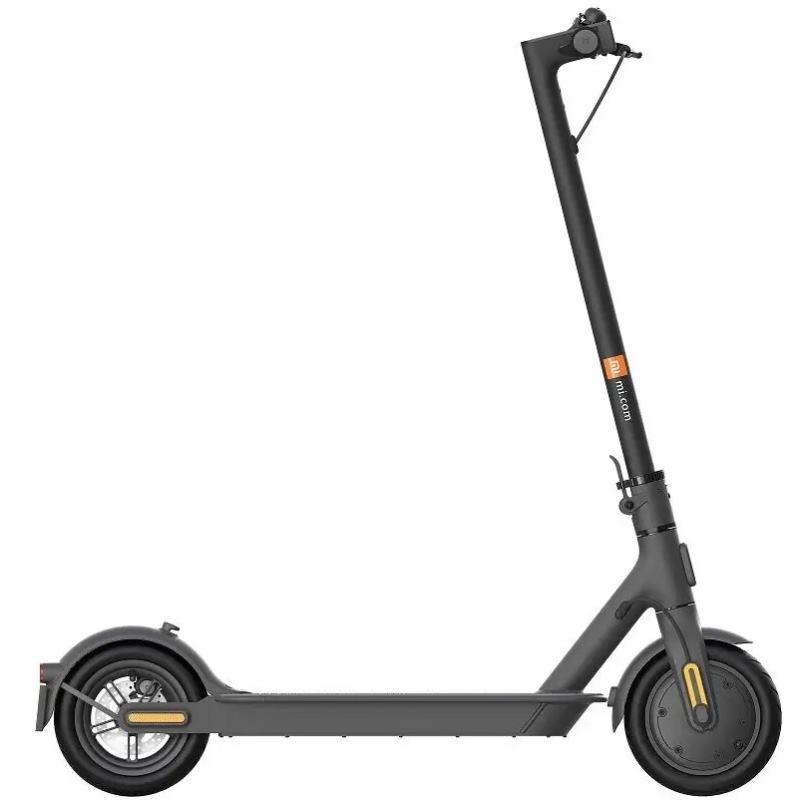 The Xiaomi Essential electric scooter has a single front carbonless electric motor providing a 250 W nominal power and capable of producing a total peak output of up to 500 W. The high-quality 5.2 Ah battery comprises multiple high-capacity lithium batteries and offers you a 20 km long ride on a single charge. The smart power management displays the battery status in the app and notifies you immediately of any problem. To prolong battery life, the Xiaomi Essential scooter converts kinetic energy to electricity during braking and returns it to the battery. The regenerative brake also contributes to better performance by assisting during emergency braking while simultaneously extending battery life. Moreover, the Xiaomi Essential features an algorithm similar to adaptive cruise control systems used in cars, which receives a signal from the speed sensor in order to maintain a smooth and stable riding speed. This reduces demands placed on the user and eliminates rider's fatigue while also allowing optimal use of the battery when taking longer trips.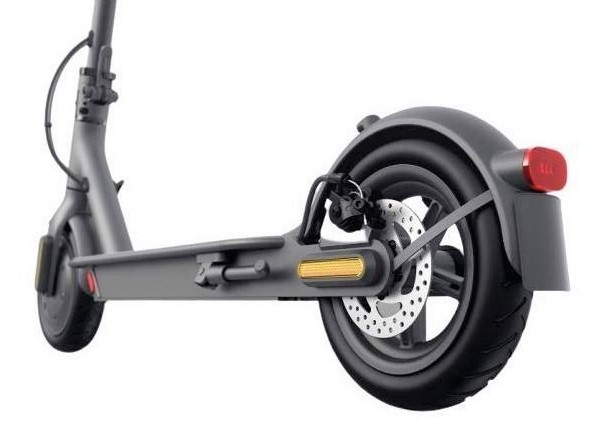 Use and practicality
The rigid body and sufficient power predestine this scooter to be used in city traffic only. Thanks to its reliable electric motor and low weight, it is suitable for frequent carrying, which fact will surely please regular commuters. The air-filled tires partially filter out small bumps or holes, making your ride a little more comfortable. You do not have to worry about any sudden rain shower as this scooter has IP54 rating, which means that it is resistant to splashing water. Given its low weight of 12 kg, it is also suitable for women. You will definitely not sweat much even when having to carry the scooter over longer distances.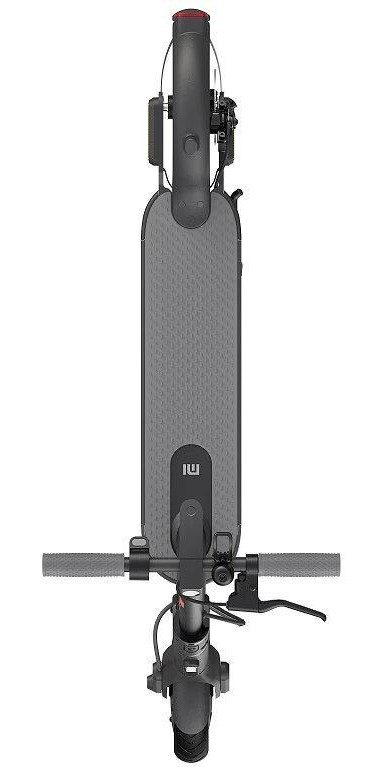 Our rating
The Xiaomi Essential scooter has been designed for simplicity, as the old saying goes: there is beauty in simplicity. The scooter frame, components and accessories use the same geometric design that puts emphasis on ease-of-use. You wake the scooter up with a single button and the yellow accessories give the scooter a modern look. The Xiaomi Essential will provide you with a good look and a good riding feeling.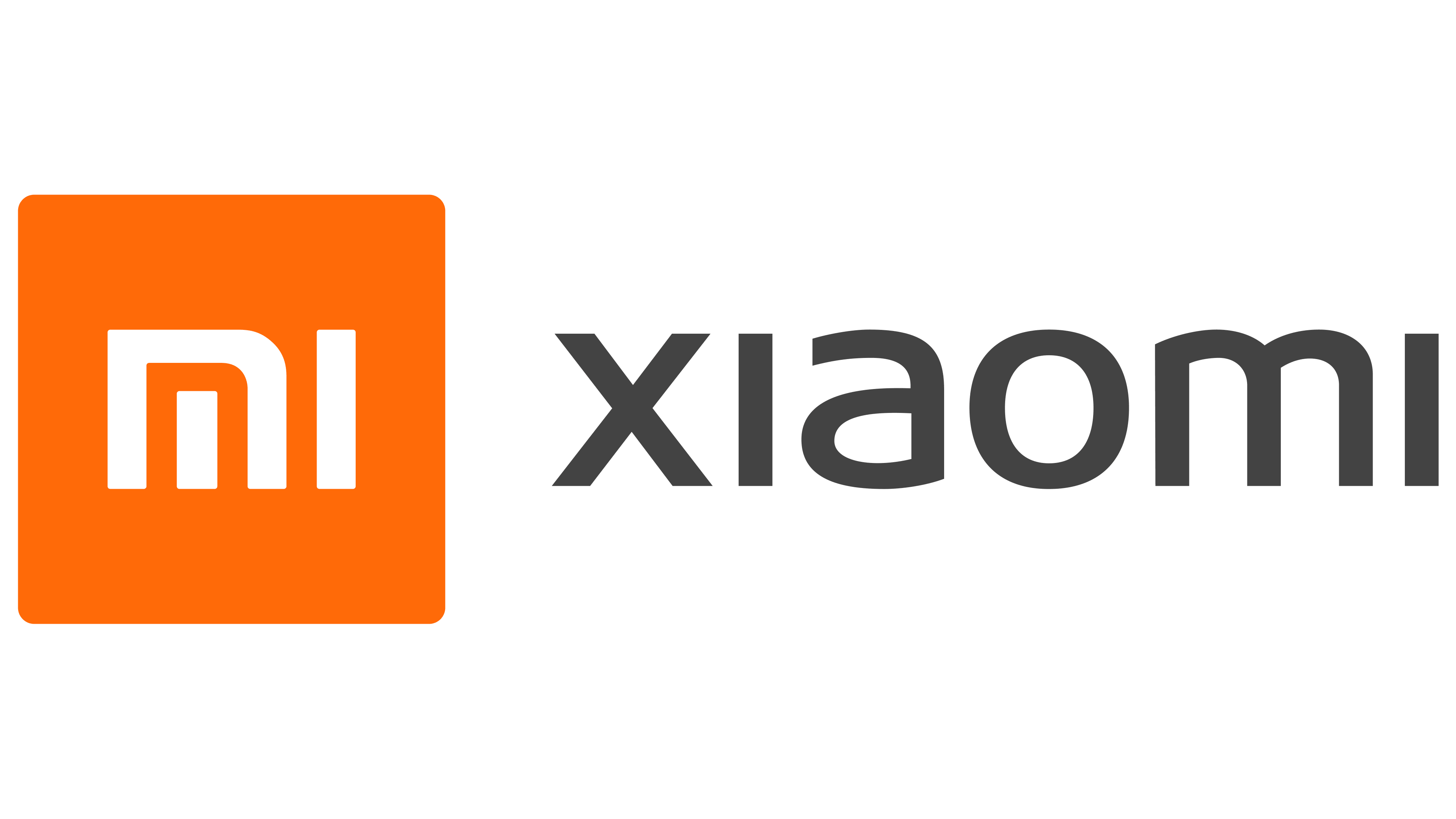 Service
We are the importer and dealer of the Xiaomi brand in Ireland. We offer direct warranty and post-warranty servicing, which is provided in our branches in Dublin, 
We keep most spare parts in stock and we are the only certified provider of warranty repairs in the region. Therefore, when buying this scooter, you do not have to worry about servicing or unavailability of spare parts. Thanks to representing the manufacturer directly, we can handle difficult repairs or diagnostics.
About the brand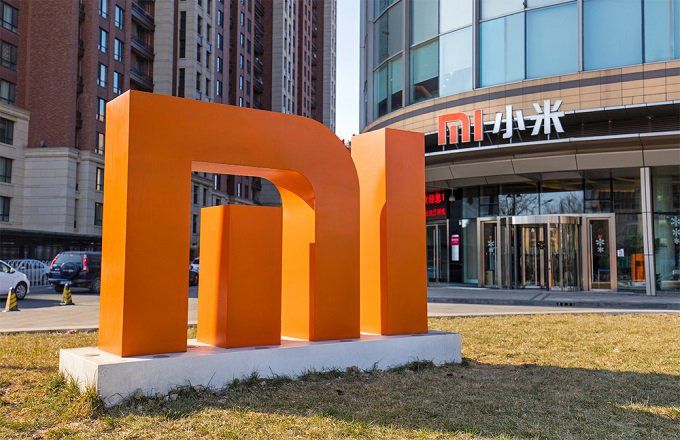 The Xiaomi Corporation is a Chinese global electronics company headquartered in Peking and founded in April 2010. The company released its first smartphone in August 2011 and quickly gained the market share in China where it became the largest smartphone company in 2014. By early Q2 2018, Xiaomi was already the fourth largest smartphone manufacturer in the world. 
Xiaomi products are currently present in more than 90 markets worldwide. Xiaomi has also developed a wide range of consumer electronics, including the smart home ecosystem (IoT), which already interconnects more than 100 million smart devices. It is a leader in innovation, constantly pursuing the quality of its products through user experience and operational efficiency. 
The company has been relentlessly building amazing products with honest prices to let everyone in the world enjoy a better life through innovative technology. One of these products is the world-famous electric scooter that is being continuously improved and that has rightly gained recognition and a strong position on the market
City Friendly
Front light
Low weight
Air wheels
Well foldable
Front brake
Rear brake
Front engine
Cruise control
Performance parameters
Feature
Value as provided by manufacturer
Max Blinker independent measurement
Rating
Weight with battery
12 kg
Waiting for test
Charging time
5 h
Waiting for test
Max. design speed
20 km/h
Waiting for test
Peak Power
500 W
Waiting for test
Range
20 km
Waiting for test
Other parameters
Feature
Value as provided by manufacturer
 
 
 
Length
108 cm
 
 
 
 
Height
114 cm
 
 
 
 
Width
43 cm
 
 
 
 
Length folded
108 cm
 
 
 
 
Height folded
49 cm
 
 
 
 
Width folded
43 cm
 
 
 
 
Engine type
brushless (BLDC) in the wheel
 
 
 
 
Battery type
Lithium
 
 
 
 
Battery voltage
36 V
 
 
 
 
Battery capacity
5,2 Ah
 
 
 
 
Battery energy
187,2 Wh
 
 
 
 
Recuperation
yes
 
 
 
 
Control system
thumb lever
 
 
 
 
Cruise Control
yes
 
 
 
 
Speed limiter
no
 
 
 
 
Kick Start
configurable
 
 
 
 
Drivetrain
front drive
 
 
 
 
Front brake
electrical
 
 
 
 
Rear brake
disc mechanical
 
 
 
 
Front wheel type
air inner tube
 
 
 
 
Rear wheel type
air inner tube
 
 
 
 
Front wheel diameter
8.5"
 
 
 
 
Rear wheel diameter
8.5"
 
 
 
 
Suspension
no suspension
 
 
 
 
Light
rear
 
 
 
 
Brake light
yes
 
 
 
 
Max. load
100 kg
 
 
 
 
Battery manufacturer
China - no brand
 
Warranty
Warranty 2 years ( 1 year battery )
Returns
How Do I Return my Order or Get a Refund
If you are not happy with your item for any reason just contact us and we´ll provide a solution. Customer satisfaction is our number one priority so you may receive a full refund.
If you are unhappy with your order, we encourage you to contact us directly so that we may resolve your issue.
However, we will not be able to refunds any payment after 14 days after ordered.
Refunds Policy
To obtain a full refund, within 14 days of receiving the item you must inform us that you will return the goods in an "as new" condition. 
How to do this is detailed below.  
Lifty Electric Vehicles defines "as new" condition as unridden, with all parts, manuals, and accessories included in the original box and packaging. 
Returned items will be checked by one of our specialists to ensure they meet the criteria set out in this returns policy. 
Refunds will be processed within 14 days of us receiving the returned item, using the same method of payment used for the original purchase.
We may refuse a refund should your product be returned not in an "as new" condition. Credit & debit card refunds must be made to the card used for the original purchase. 
Please be aware that direct refunds can take up to five business days to appear in your bank account depending on whom you bank with.
We are unable to offer any refund without a valid receipt. 
Contact email: 
​
Shipping
Shipping Policy Disclaimer
On acceptance of orders, Lifty Electrics will make every effort to process within the stated time frame. Unfortunately, sometimes unforeseeable events such as severe weather, crisis, and many others may affect this.
We aim to dispatch the majority of orders the same day, our dispatch & delivery timescales are detailed on specific product pages. Please note that couriers can experience delays or backlogs, Lifty Electrics cannot be held liable for such shipping delays.
To ensure the security of purchases, Lifty Electrics may need to contact customers to validate orders, which may cause delays. 
Countries That We Ship To
We ship within the Ireland and all countries in the EU. Please note that due to Brexit, Orders being shipped to the Uk may be subject to customs duties.
Europe
Here is a reference from the European Union website: https://ec.europa.eu/taxation_customs/individuals/buying-goods-services-online-personal-use/buying-goods/buying-goods-online-coming-from-a-noneu-union-country_en
Unfortunately, as a small business, this is collected by your local government body and is out of our control. We are in this together and want to communicate this to you clearly before your order leaves our facility. 
Lifty Electrics is not liable for any tax applicable on the items ordered by our customers through lifty.co

Kindly note that the exact valuation of the taxes incumbent upon the customers relies on the local taxes policy. For more information, please contact and consult with your local customs authority.

In case of any special requests pertaining to the mode of shipping, please contact us after placing your order and one of our representatives will assist you.

Please note that if the order being delivered is not accepted for any reason or the customer refuses to clear the custom fees before receiving the order, the customs officer may destroy the item or would need to ship it back to us, in this case, all the expenses that would occur including shipping & taxes, the customer is solely responsible for handling all the fees that will incur.

We try to process all orders placed on our website within 1 to 2 business days. Orders placed within Monday - Friday (9 am - 1 pm) will start processing on the same day. Orders made after this cut-off time will start processing the next business day. There are no orders being processed or shipped during weekends.
Pre-Orders
Pre-orders are advance purchases made on products that are scheduled to be shipped at a future date. They are a great way to guarantee that an item will not be sold out upon arrival at our warehouse. Each item available for pre-order will have its own estimated shipping date (usually detailed on the product page).
The advantage of pre-ordering is that you can guarantee the item you want without risking that it runs out as soon as it is available in our warehouse. Requests for certain products can be multiple. For this reason, availability can run out even before the item is physically in stock.
How long will it take to ship out my pre-order?
Waiting times vary from article to article. Once that the item is available in our warehouse, your order will be dispatched within two working days.
Please keep in mind that if you placed an order containing a pre-order item, the entire order will be on hold and dispatched at once.
When does a delay occur and why?
In some rare cases, there may be delays caused by events outside of our control. In the unlikely event of a delay, our Customer Support Team will get in contact with you as soon as possible.
Can I cancel a pre-order item?
No, it is unfortunately not possible to cancel your pre-order under regular circumstances.

This is because upon pre-ordering, we create a special reservation for you with one of our suppliers or manufacturing partners. Once the reservation has been made, it can generally not be cancelled by us.
Please contact our support team at hello@lifty.co for more details.