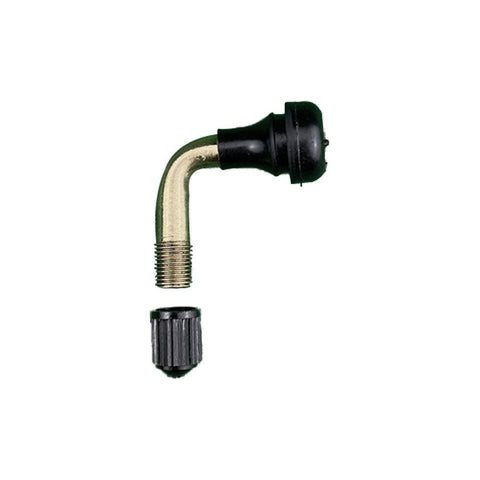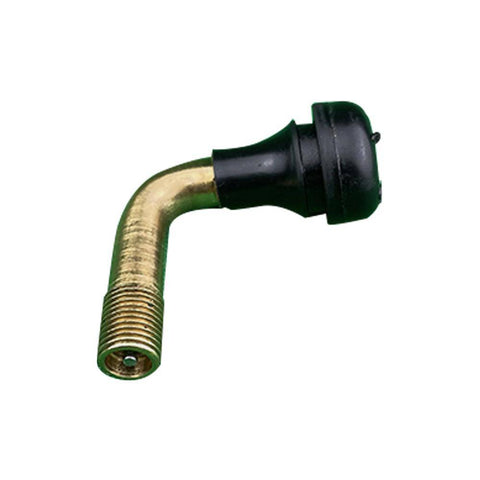 Angled Tubeless Valve For Electric Scooter
Pickup currently unavailable
Description
Vous en avez assez des valves difficiles d'usage ? Vous faîtes partie des aficionados de la pompe et ne vous voyez pourtant pas passer à un modèle de pneu plein ? Et pourquoi ne pas essayer cette valve tubeless coudée ?
Associant le confort d'une valve tubeless à un angle vous permettant une meilleure manipulation, cette valve tubeless coudée pour trottinette électrique est un pont jeté entre un confort d'utilisation optimal et l'efficacité d'une valve tubeless en termes d'étanchéité et de simplicité de manipulation.
De la chambre à air aux pneus de toutes sortes, l'équipe de Lifty Electrics vous démontre une fois encore sa maîtrise du matériel pour trottinettes électriques et surtout… sa compréhension de vos besoins.
Une valve coudée pour prolonger le confort tubeless
Implémentant une technologie Schrader classique (dite "américaine") que vous retrouvez très communément sur les pneus de trottinette électrique (mais également sur ceux d'autres véhicules à moteur comme la plupart des modèles de voiture voire de vélo), ce produit allie le confort de manipulation de la technologie tubeless à une facilité d'utilisation sans précédent.
Coudée à 90° et ne pesant que 0.01 kg, cet article équipe d'ores et déjà les pneus de Kaabo Mantis 8 d'origine mais s'adaptera bien à d'autres modèles pour peu que vous respectiez la concordance des dimensions (le pneu de Kaabo Mantis 8 classique étant, pour rappel, de 8 pouces par 3).
Il vous est par ailleurs conseillé de remplacer votre valve à l'occasion d'une réparation de roue (changement de pneu usagé) et c'est la parfaite occasion de vous mettre à utiliser ce produit dont l'alliage est synonyme de résistance et flexibilité.
Reflet de la qualité Lifty Electrics, cette valve tubeless coudée met ses performances à votre profit, tout comme chacun des services de notre marque.
Lifty Electrics : entre service d'excellence et variété de choix
If you are one of the scooter riders who are tired of discovering spare parts on delivery of your products or deplorable customer service, then Lifty Electrics is for you.
Constantly respecting a quality / price each time a new product is put online in our shop, we seek above all to satisfy you because the relevance of an offer is a guarantee of sustainability for a company.
By bringing our employees together around values ​​that we consider universal, such as transparency, a sense of service or professional conscience, our company is an essential partner for a pleasant and safe electric scooter experience.
The network of garages that we have also been able to set up is made up of service providers whose skills guarantee you proper installation of your spare parts.
The logistical support that we provide in this regard will also be of great help to you.
By offering you the choice of delivery to your home or directly to the premises of one of our members, we give you the means to free up time and energy to benefit as much as possible from a driving that will delight you.
Inner tubes, handlebars, stem, cables of all kinds, electric controller, motor, solid and valve tires and many other accessories are waiting for you on our e-commerce platform to guarantee you compatibility, performance and comfort.
Xiaomi , Dualtron and Kaabo, among others, are among the brands for which we supply, which says a lot about the compatibility of the spare parts that we make available to you.
Many "e" scooter who have called on our professionalism have already expressed their satisfaction, as you can verify through the various customer reviews verified on our platform.
So why hesitate any longer? Choose a safe option with guaranteed quality: choose the Lifty Electrics offer!
Further Information
| | |
| --- | --- |
| Weight | 0,01 kg |
| Marque | Lifty Electrics |
| EDPM | Scooter |
| RAYON | |
| EAN13 | 3760351010031 |
Warranty
Warranty 2 years ( 1 year battery )
Returns
How Do I Return my Order or Get a Refund
If you are not happy with your item for any reason just contact us and we´ll provide a solution. Customer satisfaction is our number one priority so you may receive a full refund.
If you are unhappy with your order, we encourage you to contact us directly so that we may resolve your issue.
However, we will not be able to refunds any payment after 14 days after ordered.
Refunds Policy
To obtain a full refund, within 14 days of receiving the item you must inform us that you will return the goods in an "as new" condition. 
How to do this is detailed below.  
Lifty Electric Vehicles defines "as new" condition as unridden, with all parts, manuals, and accessories included in the original box and packaging. 
Returned items will be checked by one of our specialists to ensure they meet the criteria set out in this returns policy. 
Refunds will be processed within 14 days of us receiving the returned item, using the same method of payment used for the original purchase.
We may refuse a refund should your product be returned not in an "as new" condition. Credit & debit card refunds must be made to the card used for the original purchase. 
Please be aware that direct refunds can take up to five business days to appear in your bank account depending on whom you bank with.
We are unable to offer any refund without a valid receipt. 
Contact email: 
​
Shipping
Shipping Policy Disclaimer
On acceptance of orders, Lifty Electrics will make every effort to process within the stated time frame. Unfortunately, sometimes unforeseeable events such as severe weather, crisis, and many others may affect this.
We aim to dispatch the majority of orders the same day, our dispatch & delivery timescales are detailed on specific product pages. Please note that couriers can experience delays or backlogs, Lifty Electrics cannot be held liable for such shipping delays.
To ensure the security of purchases, Lifty Electrics may need to contact customers to validate orders, which may cause delays. 
Countries That We Ship To
We ship within the Ireland and all countries in the EU. Please note that due to Brexit, Orders being shipped to the Uk may be subject to customs duties.
Europe
Here is a reference from the European Union website: https://ec.europa.eu/taxation_customs/individuals/buying-goods-services-online-personal-use/buying-goods/buying-goods-online-coming-from-a-noneu-union-country_en
Unfortunately, as a small business, this is collected by your local government body and is out of our control. We are in this together and want to communicate this to you clearly before your order leaves our facility. 
Lifty Electrics is not liable for any tax applicable on the items ordered by our customers through lifty.co

Kindly note that the exact valuation of the taxes incumbent upon the customers relies on the local taxes policy. For more information, please contact and consult with your local customs authority.

In case of any special requests pertaining to the mode of shipping, please contact us after placing your order and one of our representatives will assist you.

Please note that if the order being delivered is not accepted for any reason or the customer refuses to clear the custom fees before receiving the order, the customs officer may destroy the item or would need to ship it back to us, in this case, all the expenses that would occur including shipping & taxes, the customer is solely responsible for handling all the fees that will incur.

We try to process all orders placed on our website within 1 to 2 business days. Orders placed within Monday - Friday (9 am - 1 pm) will start processing on the same day. Orders made after this cut-off time will start processing the next business day. There are no orders being processed or shipped during weekends.
Pre-Orders
Pre-orders are advance purchases made on products that are scheduled to be shipped at a future date. They are a great way to guarantee that an item will not be sold out upon arrival at our warehouse. Each item available for pre-order will have its own estimated shipping date (usually detailed on the product page).
The advantage of pre-ordering is that you can guarantee the item you want without risking that it runs out as soon as it is available in our warehouse. Requests for certain products can be multiple. For this reason, availability can run out even before the item is physically in stock.
How long will it take to ship out my pre-order?
Waiting times vary from article to article. Once that the item is available in our warehouse, your order will be dispatched within two working days.
Please keep in mind that if you placed an order containing a pre-order item, the entire order will be on hold and dispatched at once.
When does a delay occur and why?
In some rare cases, there may be delays caused by events outside of our control. In the unlikely event of a delay, our Customer Support Team will get in contact with you as soon as possible.
Can I cancel a pre-order item?
No, it is unfortunately not possible to cancel your pre-order under regular circumstances.

This is because upon pre-ordering, we create a special reservation for you with one of our suppliers or manufacturing partners. Once the reservation has been made, it can generally not be cancelled by us.
Please contact our support team at hello@lifty.co for more details.